Ladies Group Coaching - Identity Boards 6:30 PM - 8:30 PM
Friday, September 9, 2022 from 6:30 PM to 8:30 PM
Event Information
Are you struggling to believe YOU are WHO God created YOU to be?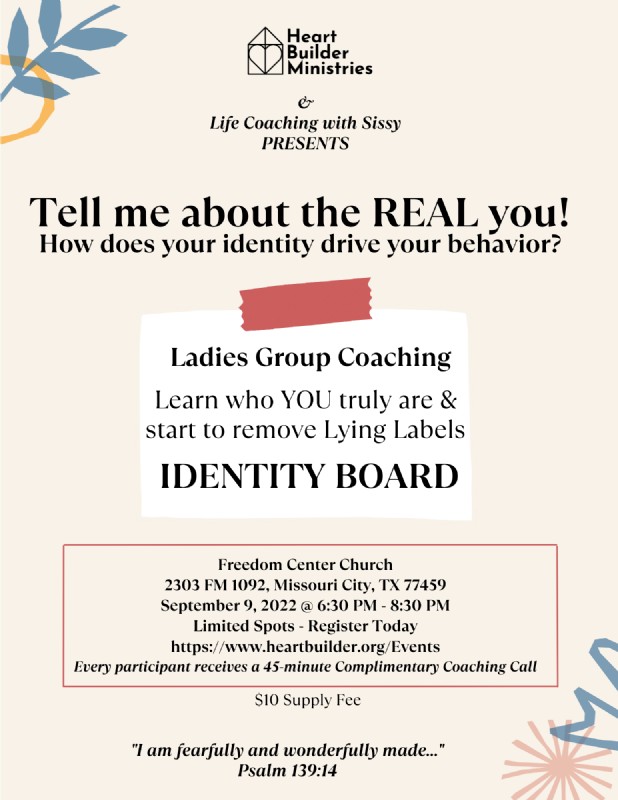 Have the lies of this world and the enemy defined how YOU see yourself and what YOU believe about YOU?
We ALL have encountered challenges with our IDENTITY.
NOW is the time to say "enough is enough" and believe who YOU really are!
Join a group of ladies who are determined to silence the lies and listen to the TRUTH! 
We will be creating IDENTITY BOARDS about the REAL YOU! The YOU God says YOU are!
What do you believe would happen if everyday you could look at a board that did not lie to you and instead reminded YOU of WHO God created YOU to be!
There is no need to bring anything (except maybe a friend) or if you have something special you want on your board. Otherwise, we will provide everything you need.
I am ready to watch you ladies take back what the enemy continues to try to steal from all of us...
YOUR TRUE IDENTITY!!
(You will also receive a 45-minute complimentary coaching call.)
NOTE: If the class is full and you really want to be a part, please email to contact@heartbuilder.org and let us know which session you are interested in.
Event Location
Freedom Center Church • 2303 FM 1092 Rd. • Missouri City, TX 77459 •
Contact Information
Contact: Sissy Pitcher
Phone: 832-945-5323
E-mail: