Ladies Group Coaching - Vision Boards 6:30 PM - 8:30 PM
Friday, December 2, 2022 from 6:30 PM to 8:30 PM
Event Information
Will you join me and end 2022 by creating a Vision Board for 2023? 
What beneift to YOU would it be to see YOUR VISION in front of you every day?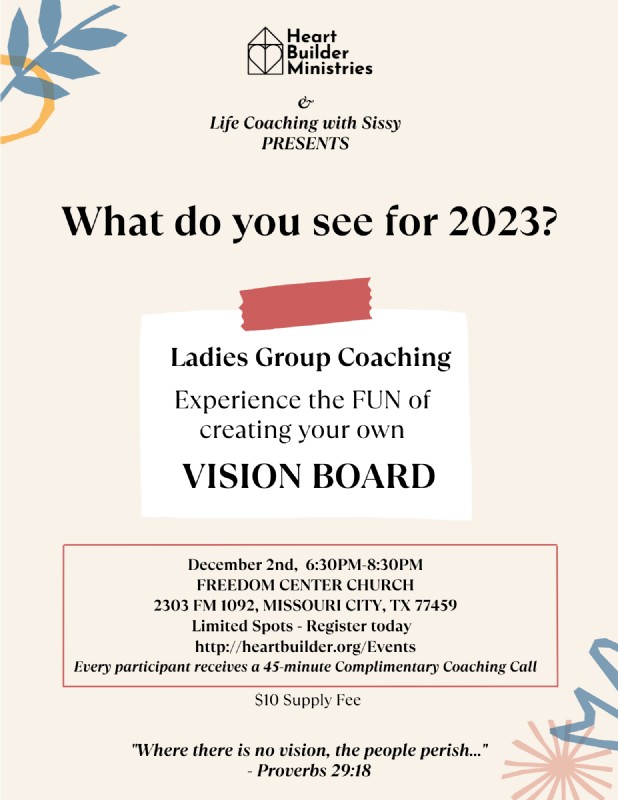 We want you to grab a friend and come have some "productive fun" with other ladies.
Perhaps, you have never created a Vision Board or maybe you are a pro. Either way, we would love to have you join us. 
No need to bring anything but yourself (and maybe a friend) and your vision. We will provide all the needed supplies.  If you have some special photo you want on your board, bring it.
You deserve a little time to VISION and we have created the space and place for you to do just that!
NOW is the time to vision and start working toward making that vision a reality!
You will also receive a 45-minute complimentary coaching call.
NOTE: If the class is full and you really want to be a part, please email to contact@heartbuilder.org and let us know which session you are interested in.
Event Location
Freedom Center Church • 2303 FM 1092 Rd. • Missouri City, TX 77459 •
Contact Information
Contact: Sissy Pitcher
Phone: 832-945-5323
E-mail: