As we celebrate Jesus's birthday, may we never forget the act of great love that was bestowed upon us from our Heavenly Father.
Jesus was sent to us so we could become heirs to the throne of God. Think about the sacrifice Jesus made. Everything was perfect and beautiful in His life in Heaven.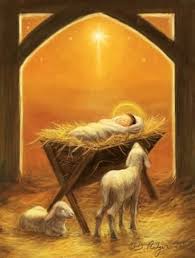 However, Jesus willingly came down to earth in the form of a vulnerable baby. He grew and matured into a man living on earth in right relationship with His Heavenly Father. Through the death of Jesus, we were provided the pathway to have a relationship with God as our Heavenly Father as well. What sacrifice! What love! What obedience!
Every time we see the word Christmas, we think "MORE OF CHRIST." Why? We know the word "Christ" is referring to Jesus Christ. We have limited Spanish language understanding, but we do know that in Spanish the word "mas" means "MORE." It is our belief that we definitely need MORE OF CHRIST in this world and our individual lives. Consequently, we read Christmas and think "MORE OF CHRIST."
It is true the Christmas season seems to bring a smile to many faces; however, we also need to be mindful of those who are struggling. We never know what someone has gone through or is going through. The Christmas and New Year's season can bring tough times for many whose hearts are hurting.
Since Christmas means "MORE OF CHRIST" (to us anyway :-), let's see if we can't bring out "MORE OF CHRIST" in ourselves and share it with those hurting. Let's get out of our comfort zones and do something out of the ordinary for someone who might look a little angry, frustrated or sad. Let it be our mission to try and put a smile on someone's face or a glimpse of hope in their eyes. Let's pray and ask God to place individuals in our pathways that we might be able to share some love, joy, peace or hope with.
Jesus is the Reason for the Season, so let's see how much of CHRIST we can share during this holiday time.