As Doug walked into the front living room, he hollered at me to come into the room. As I walked in the room, it was obvious what he wanted me to see.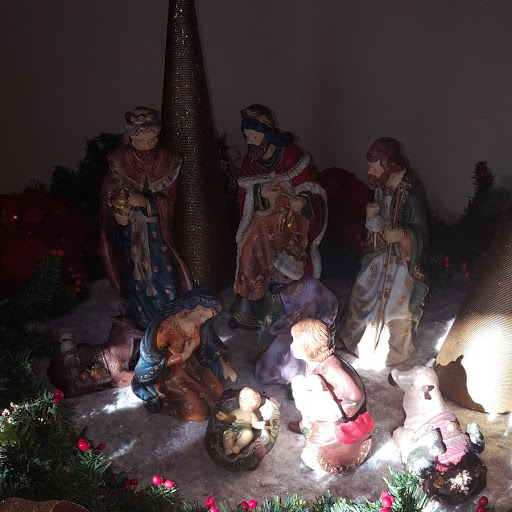 Can you see how brightly the sun from our top window was shining on Joseph and baby Jesus only? We know that God does not show us things of this nature unless He wants to highlight something for us.
There is no doubt that Mary is well thought about and discussed as to her role as the mother of the Son of God. Her pure obedience to God was remarkable. Here she was a young teenage girl in love with God and now she has been "over shadowed" by the Holy Spirit and is carrying the Son of God. One can only imagine the wide range of emotions that this young woman endured.
However, our focus is upon Joseph today. Can you imagine being told by your fiance that you are carrying the son of God and yet you have remained a virgin? Even way back then, everyone knew there was only one way to become "with child." Joseph was not born yesterday, and he surely had his own set of emotions working at this point.
Had it not been for the angel who visited Joseph, the story might be quite different. It is clearly evident that Joseph, as well, loved God with all his heart and trusted God. Once the angel appeared, Joseph had a choice to make: 1) Believe the angel of God or 2) Reject the angel of God and Mary's story altogether.
Can you imagine the amount of faith it must have taken for Joseph to stand by Mary's side? Are we really to believe that their friends, family and communities just readily accepted that Mary was with child by the "Holy Spirit." If your fiance came to you today and told you this story, would you believe her and stand by her side? Would you be able to trust God despite all the looks, snickers and gossip whirling around every time you entered the room or walked down the street?
God knew what He was doing when Joseph was betrothed to Mary from the beginning. From day one, God had set His plan into action. It is important to notice that God did not "forewarn" either Mary or Joseph of what His plan was for them as they became engaged. There is no need for God to "let them in" on His plans. God is sovereign and He does what He wills. Our only position is to obey Him! Thank goodness that is ALL required of us because obedience alone can be a tough act many times.
There are times when we want to obey God, but it is really HARD! We love the example of Joseph standing by Mary's side despite the unusual circumstances. Joseph knew that God is a "supernatural" God. This means that what normally happens one way can be accomplished in a totally different way with God! If Joseph would not have had this close relationship with God, the pressure of "that's not possible" could have overwhelmed him and he likely would have chosen another pathway. Not to mention, no one would have placed any blame on Joseph for calling it QUITS!
Joseph took the lead and became the spiritual leader in this relationship. Joseph learned early on in their relationship how to protect Mary. He learned how to love Mary deeply in spite of their friends, family and communities. Their journey of becoming one was in full force as they faced their challenges together, and there were many. Joseph did not back away from his responsibility. Can you imagine how he must have felt knowing he was going to be the father of the Son of God? Let's face it, it is an overwhelming experience to learn you are going to be a father, but the father of the Son of God? WOW!
All along God knew who He had chosen and both mother and father were hand-picked for the Son of God. He had a young couple who loved Him and BOTH were obedient to His will!
Father, as we celebrate the birth of our Lord and Savior, Jesus Christ, let us not only focus on the obedience of Mary, but also the obedience of Joseph. Help us as couples to tackle ALL the challenges that may come in our path in a spirit of togetherness! Let us be continually reminded that as husband and wife we are on a journey of two becoming ONE with YOU! Father God, help us to walk in obedience to Your will and not cave under the stresses and pressures we can feel from those around us. Help us to build one another up and actively work to develop our spouses' God-given purpose in life. May we always remember we are a TEAM and one of us is not more valuable than the other. Despite our differences, let us see the worth and value of our spouse as you created them. Thank you for the examples of Mary and Joseph, whom You chose to become mother and father to the Son of God! In Jesus' Name, Amen!